October 19, 2011 in Uncategorized
Preface: This is a personal opinion piece of events over the past week, and does not represent an official statement on behalf of Occupy Denver, its PR staff or its embattled occupants:
Near midnight on Thursday, October 13th, protesters seated around the Veteran's Memorial in downtown Denver were ordered by Colorado state police to remove their tents or face certain imprisonment.  Rumors circulated through various channels, including the media, that prison blocks were being emptied for our sake and that hospitals were being cleared to accept our wounded.  The threat of arrest was ever-present. This whisper campaign, aided by agent provocateurs, may have intended to split our ranks and to inspire fear–real, physical fear–but the hundreds gathered there remained defiant against a phalanx of heavily-armed state troopers that may even have outnumbered us.
I witnessed an observer from the National Lawyer's Guild stare down a tear gas gun at point blank range, ask the hostile officer his name and badge number, and receive no answer.  In fact, most of the officers wore neither badges nor visible identification, and thus gradually took the shape of a hostile, anonymous mob.  After nine intimidating hours, a second shift of police officers formed a new front line, rushed us, shoved us from our encampment, and, seemingly at random, arrested all–23 people, many charged with "criminal misconduct"–who weren't immediately corralled.
The governor hoped that by massing riot police to overrun and menace us, he could remove us without arrest–and without television news replaying the reel of 250 peaceful protesters elbowed into paddy wagons.  What he saw, instead, was a vivid picture of a paramilitary force marching on the state capital and staring down a broad cross-section of Denver clutching signs about the poverty of the political process and collectively chanting rhymes about the transgressions of banks.
On Thursday night, the head of Denver's AFL-CIO stood with us while police enclosed.   Members of A.I.M. stood with us. Writers from local papers, artists, the Free School, they stood with us. Johnny 5 ,from local band Flobots, busted into our camp to put us in touch with OccupyBoston, who had reached out to him to see if we needed help. The Global Revolution Livestream network worked with us to get our livestream broadcasted to tens of thousands of viewers, though the chaos of the moment made it undoable. Cameramen from corporate news silently expressed solidarity with us. Hundreds of people from Denver I had never seen at our General Assemblies stood with us while police enclosed.  We were freezing, exhausted, and many of us had never been arrested, but we sang, chanted, and shivered our way through the night-long stand-off. It was manifestly beautiful.
The following day, The Denver Post bragged about the governor's successful assault on our camp–let's call it Hickenlooperville– and how it's militaristic strategy might serve as a model for the rest of the country's police forces. Well for once, The Denver Post was correct, but not in the way they had intended. That Saturday's march, barely a day after the brutal crackdown, Occupy Denver's numbers had increased from a mere thousand protestors to 4000.  Occupy Boulder Protests grew by 500%. Meanwhile, in Denver, there were upwards of a thousand activists taking part in civil disobedience by occupying streets, intersections, and the 16th street mall.  This time, the riot police were outnumbered at least 4 to 1.  I joked lightly with one of the front line cops, who turned to me, flashed a sincere and tighly-clenched expression, and nodded, "F*** Wall Street." But in the violence that ensued–violence entirely initiated by the state–indiscriminate bursts of chemical mace were showered on us from fire extinguisher-sized cannons, and the old and young alike were battered by batons.  Around the world hundreds of thousands of 99%ers took to the streets in solidarity. Rome burned, again.
How much taxpayer money was wasted by the city of Denver and the state of Colorado for overtime wages for unnecessary police, on tear gas shells expended on peaceful assemblies, on processing arrests and jail time?  How much would it cost to give OccupyDenver access to portable toilets, electricity and fire for warmth?  Consider how relatively little effort it would require to address the mental and physical needs of the homeless population we have stood in solidarity with, and consider how relative much effort has been devoted to turning a massive police force on the unarmed citizens it is sworn to protect. And why?  For the meager act of sitting down on a sidewalk, for blocking traffic for an hour, for preparing free, healthful food, for camping in a park.
Corporate America thinks little of those of us who are out on its streets.  The Tea Party was a populist conservative movement barely in its cradle before it was thieved by establishment Republicans.  Before a few months had passed, it was being funded by Steve Forbes and the Koch brothers, and whoever else dared to slum it among the grassroots.  The same corporate media that over-reported the Tea Party has in some cases attempted to paint us as doctrinaire socialists or enraged anarchists. They refuse to grasp that we are beginning to represent the 99% just as national politicians represent the acquisitive will of the one percent.  It is the late-stage cancer on the political process that binds us, and the criminality of our country's financial sector that draws us together as a community of concern.  At OccupyWallStreet last weekend, theorist Slavoj Zizek led a call-and-response where he gave witness to the sense that Americans have become "the cartoon bunny that runs off a cliff, we keep running across thin air; we do not begin to fall until we look down." The Arab Spring is also the American Fall.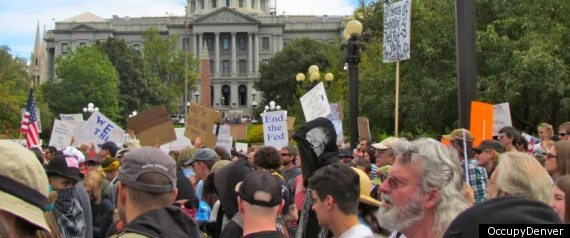 The mayor of Denver has recently taken a similar stance towards the protestors as Governor Hickenlooper, and this is disconcerting. The people of Colorado have spoken and are speaking, and OccupyDenver must return to Lincoln Park or remain in Civic Center Park.  If there are safety concerns, I again urge the city and state to work with OccupyDenver to resolve them.  At the time of writing this document OccupyDenver has collected 3400 signatures for our petition to end the arrests and abuse of protestors, we will reach 10,000 signatures by friday, no doubt.
To prevent events like this from happening in your city, please sign this petition to Hickenlooper to end the arrests.
Written by Tim Holland(Occupy Denver participant)
& James Best(Occupy LA participant)